LISTEN TO MY INTERVIEW WITH
CHERYL BOGGS...

Please check out my recent interview with Gospel singer, worship leader, and minister, Cheryl Boggs on her US radio show "Resting In His Word". Click on the program 12-21-15 (beginning at 48:42) as we discuss my new EP "Inner Man" and share about our awesome life in Christ! Be blessed.
http://www.podsnack.com/fishbowlradio/avkl4ppk
______________________________________________________
CURRENT RELEASE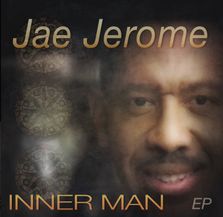 The debut EP "Inner Man" from Gospel Fusion singer/songwriter Jae Jerome has recently been released! Featuring a smooth blend of r&b, pop, jazz and reggae, this six-track offering is sure to inspire, and introduces the world to a very original and unique voice in Gospel/ Christian music today.
The Bermuda-born native penned, performed and recorded the music and vocals for all six tracks; and while he has been creating, performing and producing music for many years, this marks his first solo project. The themes covered are inspirational, and include...finding faith in the midst of struggle; the power of total surrender to love; the courage to stay in the fight; and finding unconditional love and acceptance in God.
The sound is smooth, with a touch of old-school soul, blended in an up-lifting, broadly appealing package. So take a listen, and see why this is truly, as Jae puts it…"music for the soul".